Embryo Transfer Blog
Factors Affecting Bovine Pregnancy
Post Date: April 5, 2016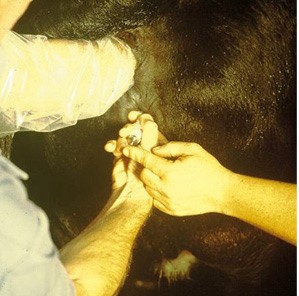 have often speculated after carefully transferring a #1 embryo into a recipient with a known corpus luteum (CL), on the correct date of the estrous cycle, following regular cycles, why do we not achieve pregnancy rates around 90 to 100 per cent? As we all know that rarely occurs at least when significant numbers of embryos are transferred. But of course when one stops to think about the number of variants in the process then sanity returns. So what are these other factors affecting our results?

First is the quality of the recipient herself. Too often when this industry started or when one scores a new client, recipients are selected from cows that failed in the regular breeding program, or are in poor condition (too fat, too thin). Possibly the belief is that we are not using these genetics since the embryo is supplying a new set of desirable genes. But unsatisfactory recipients often result in increased dystocia (difficult calving), produce poor quality colostrum, low milk production and poor mothering ability. ...



Body Condition & Pregnancy Rates
Post Date: November 10, 2015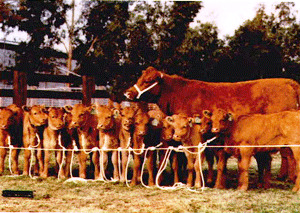 When I was running the CSU embryo transfer laboratory our mission was in applying our research results to see if they worked in the commercial field. There are many examples where a technique works in the laboratory but does not function efficiently when applied commercially. We had over 1,000 recipients which were observed for estrus twice per day. A pregnancy rate of 67% was consistently maintained with fresh embryos graded from 1 to 3.

It was always a problem and expense in locating and preparing suitable potential recipients, so when Holstein heifers became available in a feed lot program we accepted providing they were used as recipients once only, since they were on a feedlot fattening ration. The pregnant recipients were sold to the owners of the donors and the failed recipients continued in the feedlot program...



Embryo Placement in the Uterus
Post Date: October 27, 2015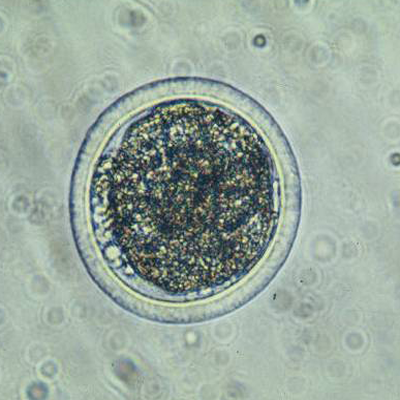 Recently there has been some discussion regarding establishment of a pregnancy when the embryo is placed in the incorrect uterine horn, referred to as the contralateral horn, which is the side not containing the corpus luteum (CL) on the ovary.

Some reports claim pregnancies are established in these cases, although they usually are lost. While other experienced embryo transfer technicians have not observed this phenomena. Bear in mind 20% of Holsteins and Simmentals exibit two CLs per cycle in which side of delivery is of no consequence.

Several years ago in order to settle the argument we conducted a small experiment, placing 20 embryos in the horn opposite to the CL and another 20 embryos in the horn next to the CL. Pregnancy rates were 0 and 65 %, respectively. In conclusion, based on the facts, place the embryo in the horn next to the CL...



Importance Of Placement Of Embryos In The Uterine Horn
Post Date: October 1, 2015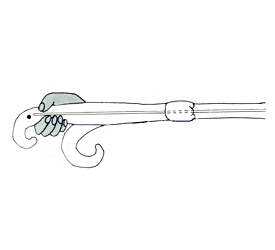 Steel reported that embryos graded # 1 (859) resulted in equal pregnancy rates when they were placed in either lower, middle or upper one third of the horn (73%, 73%, and 74%) respectively next to the CL on the ovary, providing the embryo was deposited past the palpable division of the horns.

However, there were significant differences in pregnancy rates for embryos graded 2 or 3 when they were placed in different parts of the horn. As expected when the embryo was delivered in the upper one third of the horn a pregnancy rate of 66% (209 embryos) was achieved, but for # 2 embryos 59% (151 embryos) pregnancy rate when placed in the middle one third of the horn and only 49% (41 embryos) when placed in the lower one third of the horn...



Heat Stress A Problem In Bovine Reproduction
Post Date: September 1, 2015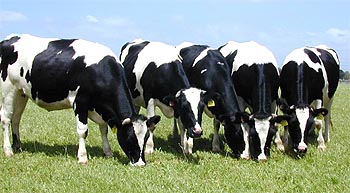 We received several calls this summer regarding below average embryo collections and unsatisfactory pregnancy results in recipients. These concerns led to the creation of this article which addresses heat stress and its effects on bovine reproduction.

Global warming is a term we are all familiar with and as the name denotes temperatures are higher than usual, especially this summer, where record high temperatures have been experienced. But these temperatures were preceded with record cold temperatures. A more accurate term would be climate change.

So how do these changes affect the cattle breeder? There are several consequences due to inclement weather patterns resulting in multiple heat stresses...



Bovine Embryo Classification And Grading
Post Date: August 1, 2015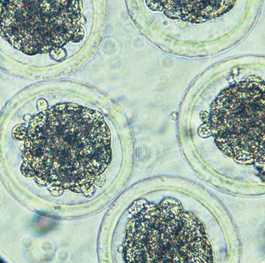 Recently a cattle owner contacted me regarding frozen embryo classification. He had some frozen embryos stored, classified as Stage 4 which are embryos developed to the compact morula stage usually observed 6 days after first observed standing heat (estrus). He had been informed by several contacts that he should discard these Stage 4 embryos, which would have been a significant number as they had been stored over the years, but fortunately he did not discard them. This alarming misinformation had come from several informants and subsequently stimulated the following article:

The International Embryo Transfer Society in the early 1980s promoted and encouraged embryo transfer practitioners to grade embryos with guidelines into 4 groups. The number 1's would be called excellent, the number 2's called good, the number 3's would be fair and the number 4's are dead or degenerated...



Affect of PH on Bovine Pregnancy
Post Date: October 12, 2015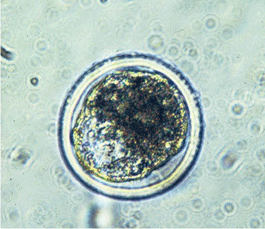 There was an interesting question on the affect of pH in the uterus and its effect on an embryo and subsequent pregnancy. The pH of the healthy vagina is around 4, cervical mucus 8.4, uterus 7.6 and oviductal fluid in the follicular phase 7.3 and in the luteal phase 7.5 to 7.8. There is ample evidence that pH changes with diet. It is seen in high producing dairy cattle consuming large amounts of excess protein contributing to reduced progesterone levels with an allied increase in prostaglandin production and a decrease in uterine pH resulting in decreased embryo development.

Similarly in beef cattle on high protein lush, spring grass, or suddenly changed from a relatively dry feed to young rye grass. Media used in embryo transfer range from a pH of 7.2 to 7.6 to mimic the conditions in the uterus, this pH is especially important for spermatozoa (semen) which are far more sensitive to even small changes of pH outside the normal range...



Testimonials
"My time was well spent at The International Embryo Transfer School, it was one of the best things I have ever done to date. Thus taking the course has given me a great advantage in the purebred cattle industry and an awesome outlook in the business world."
Rodney Hollman
"Just wanted to let you know how valuable your course has been for me. Your presentation of information and techniques was great! Being able to perform embryo transfer has added much value to my practice."
Jan Michler DVM
"The majority of our insight to embryo transfer is definitely accredited to Dr. Peter Elsden. The pragmatic experiences and personal attention offered through The International Embryo Transfer School are highly commendable."… "An example of the benefits to our embryo transfer program, made possible by The International Embryo Transfer School, is a cow that produces embryos for only $20 a piece. Each embryo is valued at $1,500 or more! We hold Dr. Peter Elsden and International Embryo Transfer School with our highest regard, as they are largely responsible for our accomplishments."
Bob & Robin Stevenson
Stevenson Angus Ranch
"I just wanted to say I think the tuition for your class was the best money I've ever spent for continuing education. I really appreciated the way things were presented. You left no grey areas about which methods and techniques were best."
Bruce l. Chambers DVM
"I now have calves on the ground from my ET work thanks to you. My conception rate on frozen embryos is in the 60s right now. Thank you for the schooling."
Doug Giles
All contents © The International Embryo Transfer School. All rights reserved.