Navigating the Bull Dilemma
Post Date: September 5, 2023
In today's ever-evolving world of cattle ranching, the role of the bull in your operation is a hot topic. Especially in dairy farming, bulls can be a handful - they're strong, sometimes aggressive, and costly to house. But when it comes to managing a cow-calf operation, sometimes they're your best (or only) option.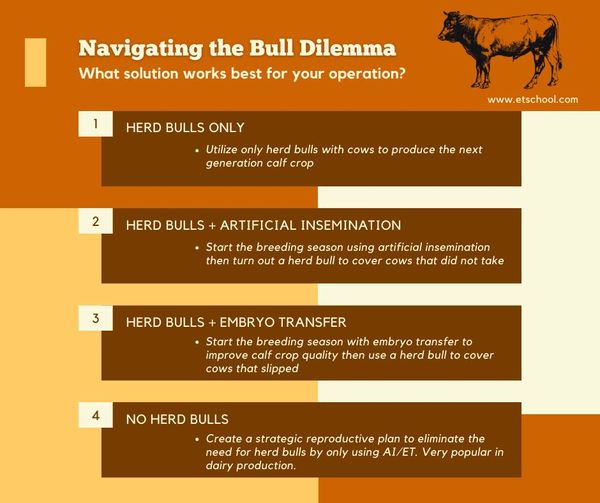 This post, we're diving into the choices you have when it comes to utilizing herd bulls in your operation. Here's a sneak peek at what's coming up in the following weeks:
Herd Bulls Only:The traditional approach - a bull or a few bulls roam with your herd, naturally breeding your cows. Altering management strategies can increase the efficiency of this option by establishing a strict breeding season, making selective choices on bull retainment, and strategically choosing where to house bulls outside of breeding season.
Herd Bull + Artificial Insemination:A blend of old and new - you bring in the expertise of artificial insemination (AI) alongside your trusty herd bull. This option will increase the number of cows calving early while still achieving optimal conception rates.
Herd Bull + Embryo Transfer:Taking genetics to the next level - using your bull, but also harvesting and implanting embryos for superior breeding. Increase the profit of your calf crop by adding high quality genetics, while still having optimal conception rates.
No Herd Bull:Embracing technology - managing your herd entirely through reproductive technologies like AI and embryo transfer, without a traditional herd bull. This option is extremely popular in dairies; however, this requires more intensive management strategies.
Stay tuned as we explore each option in detail over the coming weeks. Whether you're a seasoned rancher or just getting started, understanding your choices can make all the difference in the success of your operation.