Incorporating Sexed Semen Into Your Breeding Program
Post Date: August 22, 2023
Have you ever thought about incorporating sexed semen into your breeding program? If so, this post is for you! If not, keep reading and depending on your operation goals may decide this technology could work for you.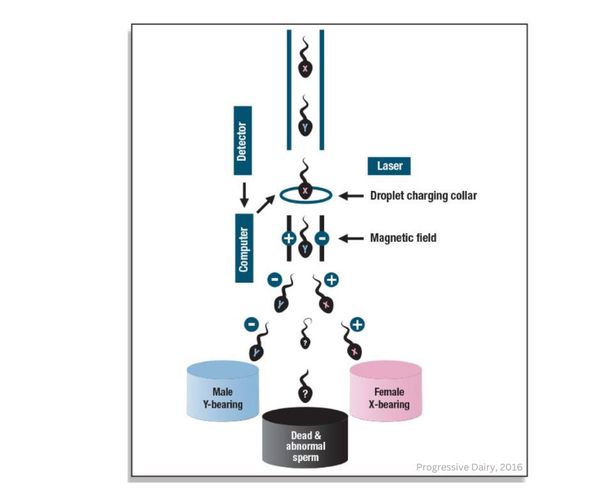 Sexed semen refers to a specialized type of semen used in animal reproduction, where the sperm cells have been separated or sorted based on their sex chromosomes. This sorting process allows for a higher proportion of sperm cells carrying either the X chromosome (which typically results in female offspring) or the Y chromosome (which typically results in male offspring) to be collected and used for artificial insemination.
The goal of using sexed semen is to intentionally influence the gender of the offspring produced. This technology provides breeders and producers with the ability to select the desired gender for specific breeding goals, market demands, or replacement needs within their livestock operations.
It's important to note that while sexed semen offers the advantage of gender selection, it may also come with challenges such as reduced conception rates and timing constraints, as the sorting process can stress the sperm cells. Successful use of sexed semen requires proper timing, careful management, and consideration of factors that can impact fertility and overall breeding success.
Using sexed semen in cattle breeding offers several advantages and disadvantages that breeders should consider before incorporating it into their breeding programs. Here's a breakdown of the pros and cons:
Advantages of Sexed Semen:
Precision in Breeding Goals: Sexed semen allows breeders to selectively choose the gender of offspring, aligning breeding goals with specific market demands or replacement needs. This precision can lead to more efficient resource allocation and improved profitability.
Optimized Replacement Heifers:For producers focusing on expanding their herd, sexed semen enables the targeted production of replacement heifers, enhancing the genetic quality of the next generation.
Market Demand:Depending on market trends and demands, breeders can use sexed semen to produce a higher number of calves of the gender that is in higher demand, potentially increasing returns on investment.
Disadvantages of Sexed Semen:
Reduced Conception Rates:Sexed semen typically has slightly lower conception rates (45-55%) compared to conventional semen (55-65%). This can lead to additional breeding attempts and increased costs for producers.
Timing Challenges:Proper timing is critical when using sexed semen, as the window of opportunity for successful insemination is often narrower. Failure to inseminate at the right time can result in reduced pregnancy rates.
Higher Cost:Sexed semen is more expensive than conventional semen due to the sorting and processing technology involved. This can impact the cost-effectiveness of the breeding program.
Limited Availability:Depending on the breed and supplier, sexed semen might have limited availability for certain genetic lines. This can constrain breeders' choices when selecting sires.
At the International Embryo Technology School, techniques for embryo transfer and artificial insemination are taught monthly. If you are interested in using sexed semen, we highly recommend attending one of these classes as the technique of insemination more closely mimics embryo transfer than conventional AI. IETS can help you harness the potential of sexed semen and create a herd that aligns perfectly with your objectives.