Reproductive Issues That Can Be Alleviated by Using Embryo Transfer
Post Date: January 24, 2023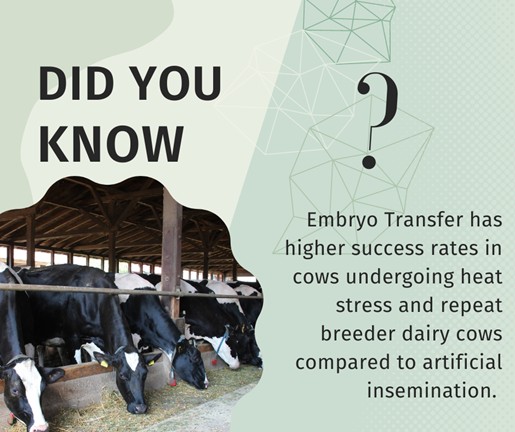 While embryo transfer is advantageous to any cattle operation, research had identified two reproductive issues that can be alleviated by using embryo transfer. It is shown that dairy cows undergoing heat stress or repeat breeder dairy cows have higher pregnancy rates to embryo transfer than traditional artificial insemination.
Researchers predict that oocyte competence is declined in these animals. Thus, the oocyte may not respond to hormones that induce ovulation or the oocyte quality is too low to turn into a viable pregnancy. However, in embryo transfer, the recipient cow's oocytes are not being used. The bypassing of the recipient oocyte is what leads to higher pregnancy rates when using embryo transfer.
We encourage producers to identify any repeat breeder dairy cows or cows that are susceptible to heat stress within the herd. Using embryo transfer in these cows could improve overall pregnancy rates.