Who Would Benefit From Attending Our Bovine Reproduction Courses?
Post Date: November 8, 2022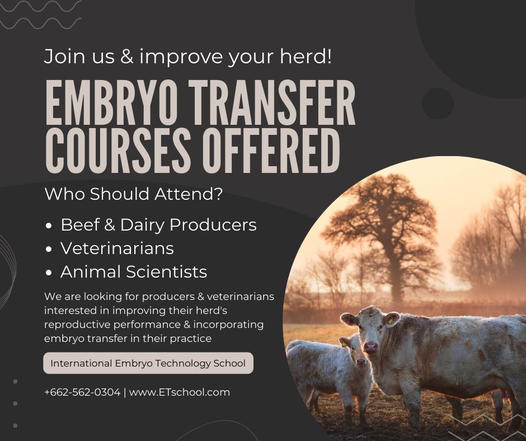 In this post We want to discuss WHO would benefit from attending one of our bovine courses to learn skills such as artificial insemination (AI), embryo transfer (ET), ovum pick-up (OPU), in-vitro fertilization (IVF), and reproductive management strategies.
Any beef or dairy producer looking to improve the genetic and reproductive performance within their herd. These courses will teach the proper ways to incorporate advanced genetic selection through artificial insemination, embryo transfer or OPU, to create a more profitable calf crop
Veterinarians interested in expanding their practice and offering bovine embryo transfer services to their clients. Additionally, the Comprehensive Bovine Embryo Transfer Course is RACE-approved and counts for 50 continuing education (CE) hours.
Bovine-focused animal scientists interested in utilizing embryo transfer or OPU within research projects, or expanding their research focus to include embryo transfer, or OPU.
Current pre-veterinary students, future livestock producers, or livestock reproduction focused students would also benefit from attending these courses starting with artificial insemination and progressing through embryo transfer and then OPU to become more well-rounded in the discipline.