International Embryo Technology School
We have been providing Embryo Transfer training courses continuously for over 30 years! Our courses are open to both livestock producers & veterinarians.
While our main focus is Embryo Transfer Training we also offer a variety of other Bovine Reproduction Courses. We currently offer: Bovine Embryo Transfer Training, Bovine Artificial Insemination Training, Bovine OPU (Ovum Pick-Up) Training, and Thawing & Implanting Bovine Embryos Training.
ATTENTION VETERIANARIANS: We are a RACE-Approved Provider of Continuing Education. Our 4.5-day Comprehensive Bovine Embryo Transfer Course is RACE-Approved for 50 Hours of CE for Veterinarians and Veterinary Technicians in Jurisdictions Which Recognize American Association of Veterinary State Boards RACE Approval.


Our most popular course is the 4.5-day Comprehensive Bovine Embryo Transfer Course which teaches the most economical methods to perform embryo transfer in cattle, thereby maximizing profitability. It is designed for dairymen and ranchers wanting to learn how to perform embryo transfer on their herds; as well as veterinarians wanting to learn embryo transfer to incorporate into their practice.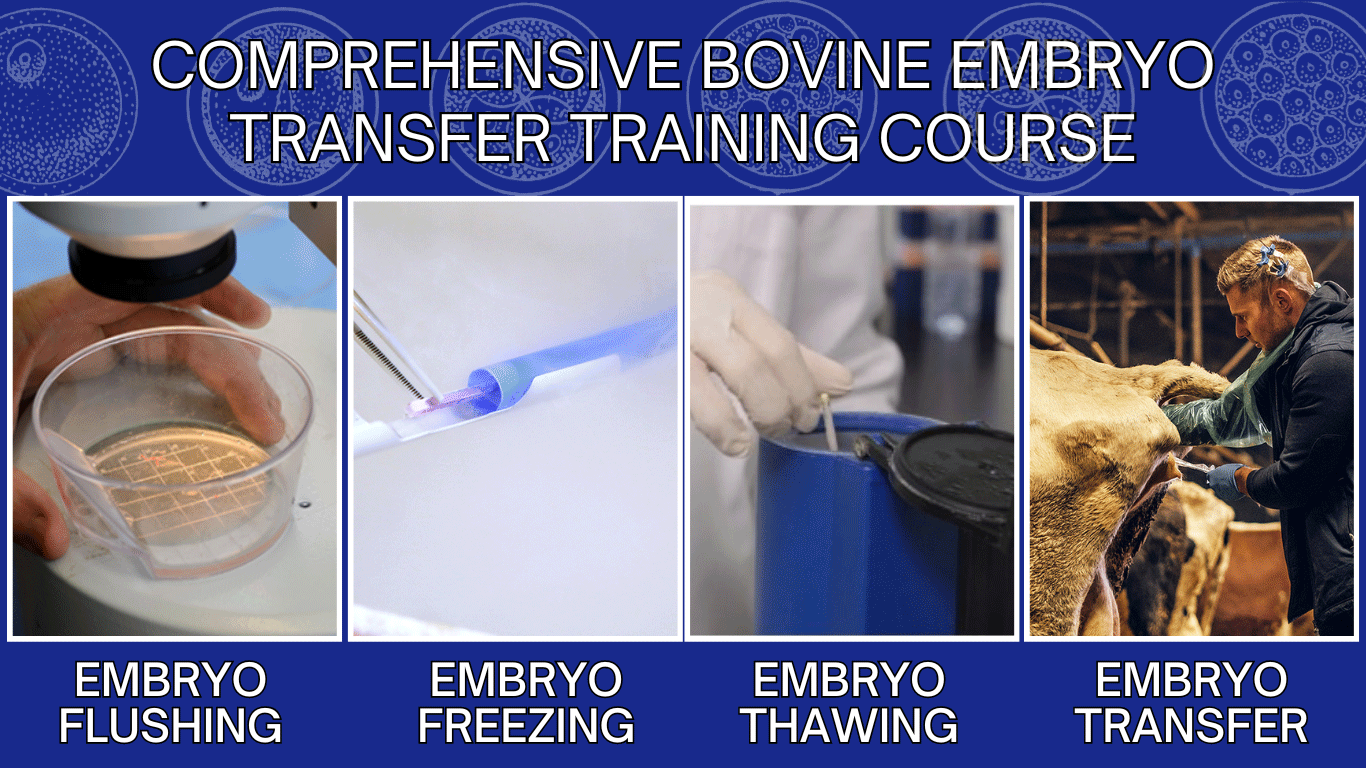 Each day of the Comprehensive Bovine Embryo Transfer Course consists of lectures, labs, and chute time. Students are taught embryo recovery (flushing), identification of embryos and eggs, classification, freezing, thawing, and transfer of embryos. No successful course on embryo transfer can be given without presenting the student with freshly superovulated cows to provide ample opportunities to experience palpating superovulated ovaries. Therefore, we provide freshly superovulated cows, giving the student the opportunity to practice sufficient flushing & palpation. Frozen-thawed eggs and embryos are available for additional practice whenever needed.
Through our many years of teaching the Comprehensive Bovine Embryo Transfer Course we have ascertained that it takes the average student 4.5 days to absorb all of the material, to experience the differences in the reproductive tract of cows, and experience the different situations when using the microscope; both are aspects which cannot be learned from books or videos.