Industry Links
Industy Links
ABS Global -
www.absglobal.com
608-846-3721
Bovine Semen Collection, A.I Supplies, A.I. Schools
American Angus Association -
www.angus.org
816-383-5100
American Genetics -
www.american-genetics.com
214-821-1429
Locate genetics that meet the buyer's requirements and assist sellers in identifying potential buyers.
American Hereford Association -
www.hereford.org
816-842-3757
Bovine Elite -
www.bovine-elite.com
979-693-0388
Bovine Semen Collection, A.I Supplies, A.I. Schools
Bull Barn Genetics -
www.bullbarn.com
800-535-6173
Bull Barn Genetics has compiled a comprehensive list of Angus, Charolais, Gelbvieh, Hereford, Club Calf, Shorthorn and Simmental bulls used in the A.I. industry. They sell this complete battery of bulls to the progressive breeder.
Graham School for Cattlemen -
www.grahamschoolforcattlemen.com
785-448-3119
A school that has been in operation since 1909 that is for the cattleman or woman interested in becoming more successful. We teach pregnancy testing, AI, herd health, calf delivery, nutrition, and many other subjects that pertain to the cattle industry.
Hawkeye Breeders -
www.hawkeyebreeders.com
515-993-4711
Bovine Semen Collection, A.I Supplies, A.I. Schools
Holstein Association USA, Inc. -
www.holstein.com
802-254-4551
JM Sales -
www.jmsales.com
641-745-4004
Refurbished HeatWatch Estrus Detection systems available along with the Transmitters, Patches and Glue for the HeatWatch system.
National Association of Animal Breeders -
www.naab-css.org
573-445-4406
Select Sires -
www.selectsires.com
614-873-4683
Bovine Semen Collection, A.I Supplies, A.I. Schools
Semex -
www.semexusa.com
800-303-2855
Bovine Semen Collection, A.I Supplies, A.I. Schools
Trans World Genetics LTD -
www.twgltd.com
800-525-2953
Semen Sales, Genetic Advice
Testimonials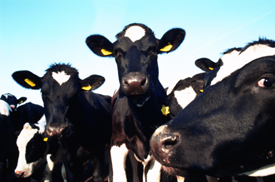 "I just wanted to say I think the tuition for your class was the best money I've ever spent for continuing education. I really appreciated the way things were presented. They left no grey areas about which methods and techniques were best."
Bruce l. Chambers DVM