Transferring Frozen-Thawed Embryo's Training Course
Testimonials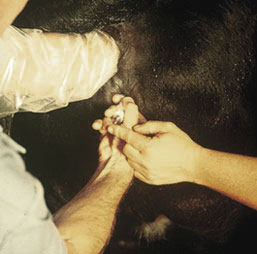 "I just wanted to say I think the tuition for your class was the best money I've ever spent for continuing education. I really appreciated the way things were presented. You left no grey areas about which methods and techniques were best."
Bruce l. Chambers DVM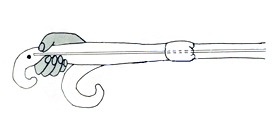 Diagram illustrating placement of the embryo.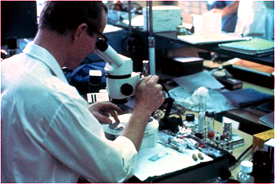 "I now have calves on the ground from my ET work thanks to you. My conception rate on frozen embryos is in the 60s right now. Thank you for the schooling."
Doug Giles
Course Info
This is a 1 day training course of theory and practice.
We limit the number of students per school to five. This ensures a high level of teacher/student interaction. Certificates of competency are given after taking Transferring Frozen-Thawed Embryo's Course. The classroom is Wi-Fi enabled, so feel free to bring your laptops.
Instructor
Our courses are taught by Dr. Peter Elsden a pioneer in the embryo transfer industry in cattle and horses He has co-authored a book on bovine embryo transfer, published over 50 scentific articles on the subjct, and regularly publishes articles in cattle magazines. He is a professional teacher who previously was a professor at Colorado State University CSU for many years.
Learn more...
Key Benefits of Tranfering Frozen-Thawed Embros
Matching number of embryos collected to number of recipients prepared is unlikely, so without frozen embryos either prepared recipients or embryos are wasted. However, stored frozen embryos will solve these problems.
Frozen embryos open up an additional market for the astute cattle breeder
Course Syllabus
The transferring frozen-thawed embryo course is a 1 day school.
Subjects taught are:
How to palpate uterus, ovaries and CLs
How to obtain information from embryo freezing certificates
How to thaw and transfer frozen embryos
Course Hours
Classes start at 8:00 A.M. each day and finish betwen 5:00-6:00 P.M. (depending on the number of embryos collected and student application).
Prerequisites
Their are no acedemic prerequisittes. Competence in AI techniques is an advantage but not a necessity. All one needs is the enthusiasm to learn a new technology.
School Location
Our facilities are located in Senatobia Mississippi, just 35 minutes drive from Memphis International Airport. Students flying in to attend our school will need to fly into Memphis International Airport.


View Larger Map
Transportation & Lodging Info
We offer free transportation service to and from the Memphis International Airport for students attending our school. Upon the receipt of your course deposit, we can book your hotel for you at your request. Rates are approximately $49 per night. Transportation services are provided between local hotels and the International Embryo Transfer School for each day of the course.
Local Hotel:
America's Best Value Inn
Phone: 662-562-5647
Rates: Approximately $49 per night
Course Schedule
Contact Us to arrange a mutually agreeable date.
Price
Tuition for the Transferring Frozen-Thawed Embryo's Course is: $650.00 US Dollars
We Accept the Following forms of Payment: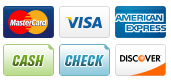 To register for this course click the "Enroll" button. Note: This course is only offered on demand. It requires an authorization code to enroll. If you do not have an authorization code, please Contact Us to arrange a mutually agreeable course date and we will provide you with an authorization code to enroll.

View other Courses