Welcome to The International Embryo Transfer School
We are the Embryo Transfer Specialists!!!

We have Extensive Experience in Research, Service & Teaching Bovine Embryo Transfer!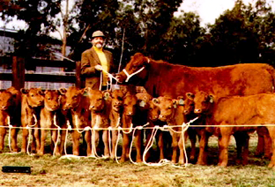 We offer a variety of courses in: bovine embryo transfer training, bovine artificial insemination training, bovine embryo splitting training and embryo transfer lab techniques training.
We service many international customers and have setup embryo transfer programs for several foreign agricultural departments and many private enterprises. Classes can also be taught offsite for groups.
Our main course is the 4.5 day comprehensive hands-on Bovine Embryo Transfer Course which teaches the most economical methods to perform embryo transfer thereby maximizing profit & is designed for dairymen or ranchers wanting to perform embryo transfer on their herds, as well as veterinarians wanting to learn embryo transfer to perform in their practice.

Objectives of the International Embryo Transfer School:
In our courses, methods are taught so that the student understands why techniques are performed in a certain manner. With this knowledge the student's performance remains high and is maintained. In addition, if a problem arises it can usually be solved if one understands the basic principles.
As in any technical field there is more than one way to achieve the same results, but basic principles must be followed, no matter the choice of a certain technique. Just following a defined "menu" without knowing why will lead to lower standards as time goes by. For example, using incorrect methods of thawing semen will lead to lower pregnancies, when these incorrect methods are criticized the response is often "we still get pregnancies". This may be true, but they are not getting as many pregnancies as they would have gotten if they had used the proper techniques. This would be evident if the incorrect and correct methods were compared over a significant number of cattle. In embryo transfer using poor techniques can result in total failure.
Our Comprehensive Embryo Transfer Course teaches you how to obtain optimum results at the least expense. For example: You will learn how to make your own flushing medium for just $1 per liter! (It only takes 10 minutes to prepare, and saves hundreds of dollars when compared to purchasing medium for $12-$30 per liter; and there is no loss of efficiency). We also show you where to purchase state-of-the-art-instruments (microscope & freezer) plus laboratory equipment (the same as we use) at lower prices than found elsewhere, which will result in considerable savings initially & in the future, which will more than cover the cost of tuition!
Through our many years of teaching experience, we have ascertained that it takes the average student 4.5 days (veterinarians 4 days) to absorb all of the material, to experience the differences in the reproductive tract of cows, and experience the different situations when using the microscope; both are aspects which cannot be learned from books or videos.

Our Comprehensive Embryo Transfer Course consists of 4.5 days of classes, each day consists of: 3 hours of lectures in the morning, followed by practical work (consisting of flushing superovulated donors and learning laboratory techniques for managing embryos) for the remainder of the day; so approximately 80% of the students time is spent performing practical work. There is no set finishing time on any day, it is up to the student to finish when they are satisfied the technique is mastered. On the last day, placement of the embryo transfer gun for transferring embryos is practiced with a new set of cows. Students are again asked if they want anything repeated.
At the end of the course, students are encouraged to let us know how they are progressing after they get home, and to contact us with questions when they occur. We like to think we have made friends with our students, and certainly like to hear from them on how they are doing.

| | |
| --- | --- |
| | We Accept the Following forms of Payment: |
All contents © The International Embryo Transfer School. All rights reserved.